NuVision har under en tid varit på gång med en LED-bakgrundsbelyst DLP-teve på hela 52 tum. Deras förhoppning var att bli först med att lansera en DLP-teve med denna teknik men Samsung han före med HL-S5679W som vi tidigare rapporterat om HÄR och som lanserades för några veckor sedan. Från NuVision heter det nu i stället att "we would rather wait a few weeks and have a better product then one that was rushed out the door"
Nåväl, nu har man i ett pressmeddelande i alla fall meddelat att man ämnar lansera NuVision 52LEDLP, som teven heter, under september månad. Priset är satt till US$ 4.399 vilket motsvarar 31.800 kronor.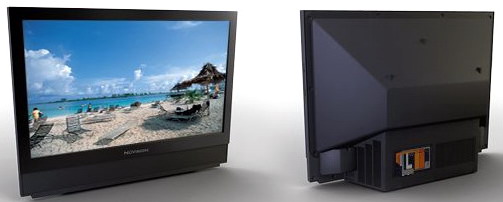 Scott Deley, VD för NuVision, säger följande om denna teve:
"The NuVision 52" LED-DLP is in fact a full 1080p display, utilizing TI xHD4 1920x1080 chipset. What sets us apart from Samsung is the fact we use Single Red, Green, and Blue LED's in a revolutionary heatsink design. Also unique to NuVision is our DSDB black system- generating a legitimate contrast ratio exceeding 5000:1. LED-DLP offers significant color range reproduction, and lightning fast response time. For the pure videophile- there is not a flat panel technology today that can offer anything close."
Mer information i nedan pressmeddelande och efterföljande länkar.
Pressmeddelande
Denver, Sept. 14, 2006 – NuVision is proud to announce that its new 1080p DLP® television (model # 52LEDLP) will ship in September of 2006. It will also be featured at the 2006 CEDIA Expo, held in Denver from September 14-17 at the Colorado Convention Center, booth 2200 (Ballroom level). The NuVision line of Deep Black LED DLP televisions will initially be available in the 52-inch model ($4,399 MSRP) with larger screen models targeted for the near future.

The NuVision LED illumination system is based on the breakthrough PhlatLight™ LED-based light source, developed and manufactured by the U.S. company Luminus Devices, Inc. The NuVision version of this technology is designed with specialized electronics systems optimized to proprietary NuVision control and signal processing systems with the goal of creating the ultimate new reference standard in high-performance video reproduction.

"The PhlatLight light source is a semiconductor RGB LED chipset that produces superior color fidelity, more refined grey scale and deeper black levels," explained Scott Deley, NuVision CEO. "The PhlatLight LEDs allowed our designers to create a radical new approach to light engine design that changes the entire optical architecture, improving it in every respect while simultaneously eliminating all shortcomings of conventional arc lamp PTV illumination. NuVision will be launching one of the world's first LED-illuminated DLP televisions."

Besides the spectacular improvements in color accuracy, brilliance, contrast and black levels, other benefits of the NuVision Deep Black LED Light Engine include:

• Long Life – No brightness degradation or bulb replacement needed
• Instant On with full brightness in less than four seconds. No waiting for the lamp to
warm up
• Environmentally Friendly – 100 percent free of mercury or other hazardous materials

found in conventional TV lamps and no more discarded bulbs, reducing the amount of toxic solid waste in landfills
• Consumes less power than conventional large screen TVs, saving energy and reducing air pollution
• Widest Color Gamut – Capable of 40 percent more than the HDTV standard to
produce highly saturated and accurate colors not possible on other TVs
• Digitally Controlled Color Balance and adjustable white point automatically maintains accurate color and improved grayscale accuracy
• Elimination of rotating color wheel filters means silent operation and no motion blur or "rainbow" artifacts
• High Brightness/High Contrast - No infrared or ultraviolet lamp filters needed; High light efficiency: 500 Nits of brightness, over 5000:1 contrast
• DSDB – NuVision Digital Switching Deep Black circuitry allows precise control of LEDs for deeper blacks

Additional features of the NuVision 52LEDLP 1080p DLP® television include:

• ATSC/Clear QAM HD tuning plus NTSC tuning
• 1920 x 1080p full resolution xHD4 DLP® chip
• 2 - 1080p capable HDMI/HDCP inputs
• 2 - Auto Detect Multi-Scan Component Inputs
• 2 - S Video, 3-composite video inputs
• NuControl Bi-Directional RS-232 + IR blaster jack with pass-through capability
• NiDO: NuVision Intelligent Digital Optimization video signal processing.
• 3:2 reverse telecine pull-down
• Motion-adaptive de-interlacer/scaler
• Digital 3D Y/C Comb Filter
• 3D Temporal/Spatial Noise Reduction
• PIP & Dual-Image Split Screen capability
• ATSC PSIP Program Guide
• 3 Language OSD with interactive on-screen set-up
• V-Chip, Closed Caption Decoder, clock on/off timer
• Backed by a full two year warranty (parts and in home labor)

"NuVision Deep Black LED DLP rear projection televisions utilize individual red, green, and blue super bright LEDs to replace conventional lamps used to illuminate all DLP rear projection systems in the market today," continued Deley. "The LED's light output is controlled to an incredible degree of accuracy through the proprietary NuVision DSDB (Digital Switching Deep Black) system. This contributes to deeper blacks by precisely controlling the LED output during dark scenes while producing an unprecedented wide color gamut resulting in deeper, more brilliant colors that exceed even the NTSC color gamut specification. Finally, the adjustable white point and color optimization provides a new level of grey scale and color precision never before available without drifting during the life of the set. The set actually automatically self-calibrates every time you turn it on."

Aimed at the discerning consumer who appreciates great performance, customer service, and sleek cosmetics, NuVision targets the CEDIA custom install channel and high-end A/V specialty retailers who professionally serve that same consumer.
Länkar