Lagom till CEDIA Expo 2006 så lanseras NAD T175, ett nytt surroundförsteg/tuner med HDMI-växlare, automatisk högtalarkonfiguration samt efterföljande ljudkalibrering. Mer information i följande pressmeddelande.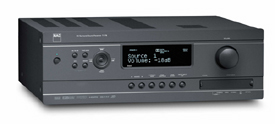 Pressmeddelande från NAD
CEDIA EXPO 2006, DENVER, CO., Sept. 14, 2006 - NAD, the highly regarded manufacturer of high-performance audio components, announces the new T 175 A/V Tuner Preamplifier during CEDIA EXPO 2006 this week in Denver. It offers an array of new features including sophisticated automatic audio calibration, HDMI switching from four A/V HDMI inputs and up to four zones of audio for whole-house audio configurations.
The T 175 is one of three new NAD A/V components to incorporate Automatic Audio Setup using a supplied microphone for calibrations. The microphone is placed in the prime listening position, then the built-in Audyssey Auto Calibration feature is selected. It automatically detects which speakers are connected, then it chooses the ideal crossover point to the subwoofer, checks speaker phasing, and adjusts the levels and delays. These adjustments are made to a level of accuracy that would be difficult to duplicate by ear alone.
Audyssey MultEQ XT is the latest in digital sophistication, allowing for improved frequency response in a large 'family sized' sweet spot. Using the calibration microphone to 'hear' your room, a series of test tones measure the speaker's response and the room's distorting echoes independently. It then calculates an ideal response that minimizes the effects of the room's echoes. While this sounds simple, the digital technology that is required for this level of performance cost many thousands of dollars just a few short years ago. But the electronic technology is only half the story, since an advanced knowledge of acoustics is also required to get good results from such a system, NAD worked closely with Audyssey, to develop response curves that reflect their own performance values.
Using the Dual Core Floating Point DSP technology, the T 175 offers the latest surround formats from Dolby and DTS including Dolby Digital EX, Dolby Pro Logic II, DTS ES, DTS 24/96, DTS NEO:6 decoding along with the proprietary NAD EARS circuitry for creating natural surround sound and is optimized for 7-channel surround.
The T 175 A/V Tuner Preamplifier combines all the control, flexibility and decoding functionality for the most demanding home theater enthusiast. It offers the latest 7.1, 6.1 and 5.1 digital surround formats with conversion of the decoded digital bitstream using high performance 24-bit /192 kHz DACs on all channels that were carefully selected for their performance capabilities.
Complete Connectivity
The T 175 has more customized options and flexibility for home theater and multi-room systems than ever before. A full suite of video switching caters to all the popular video formats (HDMI, Component Video, S-Video, and Composite Video). The T175 offers HDMI switching and includes 4 HDMI A/V inputs to accommodate digital satellite and cable receivers, DVD Players including the new Blu-Ray and HD-DVD components currently being released, as well as new game consoles offering HDMI outputs. There are an additional 6 Video inputs, all with S-Video and Composite, three of which offer Component Video. There are 4 video monitor outputs [HDMI, Component, S-Video and Composite] plus two tape [composite and S-Video] outputs.
For audio, there are 7 Digital Audio inputs [3 coax, 4 Optical] plus 7 more stereo analog inputs. There are 2 Digital outs [1 coax, 1 optical] and dual 7.2 pre-outs for subwoofers. An analogue 7.1 input is also provided for attaching a DVD-Audio player or any other yet to be developed surround decoder, making sure the T 175 does not become obsolete anytime soon.
One of the Digital [optical], one of the analog inputs and one of the S-Video/Composite inputs is on the front panel of the T 175 for handy connection of external and portable devices such as camcorders and game consoles.
Whole-House Flexibility and Control
Additional amplifiers and speakers can be added with the inclusion of Zone 2, 3 and 4 outputs. Each zone provides independent source selection and volume control making it possible to create a whole-house audio system, with the T 175 at the center. A separate second zone remote [ZR2] is included and offers discrete codes for the independent zone. Additionally, its signals can be transmitted via remote IR sensors (not included) to the IR input sockets on the rear panel of the T 175.
A composite video output is provided for Zone 1. Zone 2 provides an A/V line level output with independent source and volume selection. Zone 3 and 4 is an audio-only output with source and volume selection. The Digital inputs on the Zone 2 output provide 2-channel mixdown.
There are also 12 volt triggers to automatically switch amplifiers on and off, and even an RS-232 data port for connection to highly advanced automated control systems. Thoughtful features like discrete On and Off codes, direct access to inputs and FM station presets facilitates the integration of the T 175 into elaborate remote control systems.
The operation of the T175 is logical and straightforward. Initial system setup is best accomplished using your television monitor and the On Screen Display (OSD), which can be configured to also give status updates as settings are changed in everyday use. Once the T 175 is informed of your specific system set-up, all settings are stored in a non-volatile memory making this a one time task. The informative front panel display indicates complete information about the source being listened to or watched including selected surround mode and volume setting. The front panel display is easily customized by renaming inputs and even determining what information you prefer to have displayed and when to display it.
Other Features
The FM tuner includes 30 favorite station presets that can be custom named, or if the station supports the Radio Data System (RDS), it will automatically stream information about the station and music being played. The T 175 also includes a Digital Broadcast Ready socket on the rear panel for adding outboard DAB or XM modules. All the control software for these formats is included, just plug in the module and start enjoying the clear sound and expansive content selection available with Digital Radio Broadcast.
Five independent Audio Video Presets can store speaker level and tone control settings for instant recall, making it easy to custom tailor your system for different types of program material. Encoded surround modes like Dolby Digital and DTS are automatically selected when those sources are detected. The T 175 also remembers your last used settings when switched in and out of Standby mode.
The HTRC 1 remote handset (included) controls up to 8 different components. An illuminated LCD screen clearly shows what device is selected and what command is being sent. It has illuminated buttons for easy operation in low light environments, and the length of time the illumination is on can easily be adjusted. Remote commands from products not already included in the HTRC 1's memory, can be easily learned by the HTRC 1. The HTRC 1 provides Macro functions for up to 64 individual commands that are triggered by pressing just two keys. There is also a USB port that allows the HTRC 1 to be connected to a PC, and using our freely downloadable program from the NAD website, it can program, customize, memorize and clone the HTRC 1.
Most companies design their products to a technical specification and a price point. While this sounds logical enough, it does not address the way the product will actually be used by the eventual owner. You don't listen to specifications; you listen to music and sound. While NAD products exhibit excellent technical measurements, they have relied on their own ears and listening experience to determine the final design of their products. Because of their unique design approach, NAD's sound is simply more 'real' and authentic, adding enjoyment and excitement to your favorite films and music recordings.
The T 175 ships in 4th Qtr. '06 and will retail for $1999. It can be seen with all the other new NAD products in Booth #122 at the Colorado Convention Center during the CEDIA EXPO 2006.