Senaste nytt - 060904
Det engelska pressmeddelandet samt några bilder har precis inkommit. Pressmeddelandet inklusive teknisk specifikation kan läsas nedan.
Högupplösta bilder av båda spelarna finner ni i kommentartråden.

Pressmeddelande från Toshiba

Berlin, September 1, 2006.
Toshiba today announces the launch of Europe's first commercially available stand-alone HD DVD players, launching a new era of high definition home entertainment and marking the arrival of the next generation DVD format.

Available from mid-November, the HD-E1 will be the first model to offer HD DVD quality to European videophiles, while the step-up HD-XE1, which will follow early in December, will deliver even more astonishing image and sound thanks to its state-of-the-art audio and video processing1. Representing the very latest in high definition technology and boasting a sleek, slim-line, matt-black design, both players offer exceptional value for money.

The two players support the playback of pre-recorded HD DVD discs, offering consumers stunning, digital, high definition picture quality far surpassing that delivered by standard DVD. HD DVD discs also offer crystal clear sound in three new sound formats1, as well as a whole new range of interactive features far more advanced than those available on the current DVD format2.

Both players are also backwards compatible with existing DVD and CD formats3, and the HD-XE1 can 'upscale' and output existing DVD content at 1080p for display on HD Ready LCD, Plasma panels and other HD TVs or monitors4 via HDMI terminals.
Breathtaking Image Quality
The HD-E1 and the HD-XE1 deliver breath-taking visual image quality. The HD DVD format delivers an image with a resolution much greater than standard DVD, giving exceptional levels of image detail and clarity.

Both players will also upscale traditional DVDs via the HDMI output to 720p and 1080i resolutions – with the HD-XE1 also offering 1080p upscaling – enabling consumers to rediscover their existing DVD collections in improved picture quality4.

Next Generation Surround Sound
Clarity of image is only half the story; sound quality is also hugely enhanced with the HDE1 and HD-XE1. On top of the audio formats already used in standard DVD, both models support the clarity and realism of three next generation surround-sound formats.

Dolby Digital Plus uses a higher bit rate (up to 3Mbps) to improve fidelity and bring increased realism to movie soundtracks; Dolby TrueHD and DTS-HD support very high bit rates and larger sampling rates to produce a stunning audio experience.

A Whole New World of Interactive Content
The HD-E1 and HD-XE1 also open up a whole new world of interactivity available on HD DVD titles2. Advanced Navigation and Content features offer new and exciting ways to interact, for example:
The ability to browse movie chapters with thumbnails while the movie plays, as well as navigating menu features without pausing playback
Picture in Picture (PIP) with motion video functions, including the ability to play supplementary video over the main programme. This allows viewers to watch bonus content, such as a superimposed director's commentary or a documentary about the making of the movie, while the movie plays2
Both players come with Ethernet terminals to take advantage of forthcoming bonus features or new functionalities offered by Advanced Navigation and Content features that require internet connectivity or plug-in accessories

Olivier Van Wynendaele, Deputy General Manager, HD DVD Products, Toshiba Europe, comments: "Since Toshiba commercialised the world's first DVD players in Japan in 1996, DVD has become one of the most successful consumer products in history. However, the arrival of HD TVs and HD broadcasts is fuelling demand for a higher quality format that can deliver next generation video and audio. HD DVD is such a format; it builds on consumer familiarity with DVD and is very competitively priced, yet offers an amazing home entertainment experience. It is the natural successor to DVD, and public reaction in Japan and the US indicates that consumers are already falling in love with HD DVD just like they did with its predecessor."
ENDS
Notes:
1. Disc with HD DVD high definition content is required. Discs may require an HDCP capable HDMITM or DVI input on your HD TV or HD monitor. User must set player resolution and may need to set display resolution to match resolution of disc content. Dolby® Digital Plus support for up to 5.1 channels, Dolby True HD support for up to 5.1 channels, and DTS-HD support for up to 5.1 channels of DTS® core only. Limited support for high sample rates (>48kHz).
2. Firmware update may be required for some interactive features depending on content, which may also require an always-on broadband internet connection. Some features may require additional bandwidth.
3. Some discs may not be compatible. If you experience compatibility problems, please contact Toshiba Customer Service.
4. Since upscaling is from standard definition video, image quality may not match that of an original highdefinition source.
5. Some Twin Format Discs may not be compatible with all players.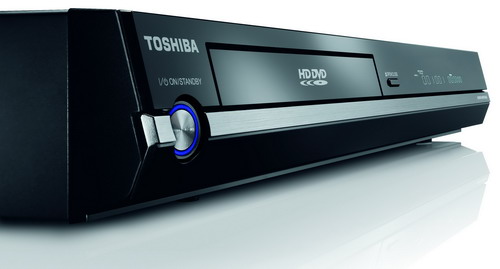 Teknisk specifikation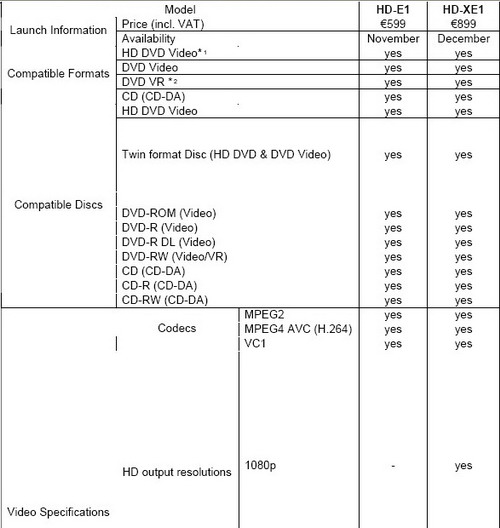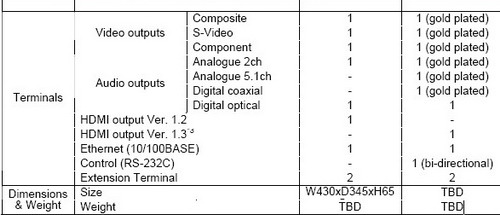 Notes:
1. HD DVD discs containing high definition content at a field rate of 50Hz or a frame rate of 25Hz cannot be played on HD-E1 and HD-XE1 without a firmware update. Firmware update is expected in the future. Should you have any question about the frame rate of your disc, please contact the disc vendor.
2. CPRM compatible disc cannot be played.
3. Requires viewing with TVs or monitors and equipment compliant with Deep Colour feature based on HDMI 1.3. Some TVs or monitors may not be compatible. If you experience compatibility problems, please contact Toshiba Customer Service.

Teaser från en av Toshibas europeiska webbplatser
Det hör väl till att man ska retas lite med de ivrigt väntande kunderna och följande snurrar i skrivande stund på de två HD DVD-spelarnas egna webbplats:





Tidigare nyhetstext
Vi uppdaterar med några bilder av en Toshiba HD-E1 som den ser ut på IFA-mässan samt fyller på med ytterligare teknisk information:
HD-E1 med fjärrkontroll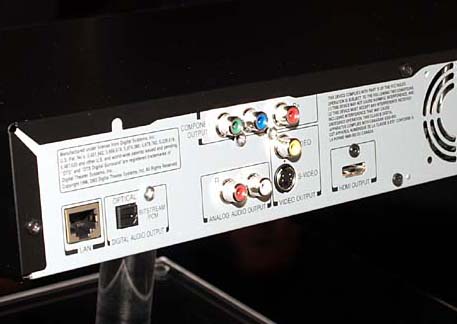 HD-E1 - bakpanelen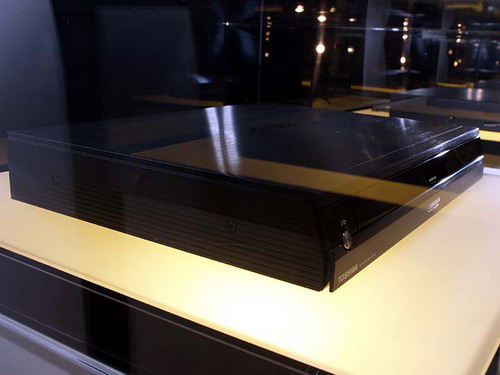 HD-E1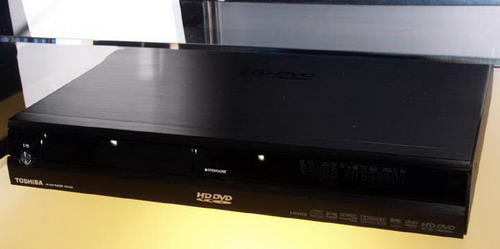 HD-XE1
Sammanfattning
HD-E1
Riktpriset är €599 och lanseras i början av november
Stöder utmatning av HD-video med upplösningarna 720p & 1080i
Stöder ljudformaten Dolby Digital Plus, Dolby TrueHD och DTS-HD
HDMI-utgången uppfyller version 1.2 av HDMI-specificationen
2 kanalers analog ljudutmatning

HD-XE1
Riktpriset är €899 och lanseras i början av december
Stöder utmatning av HD-video med upplösningarna 720p, 1080i & 1080p
Stöder ljudformaten Dolby Digital Plus, Dolby TrueHD och DTS-HD
HDMI-utgången uppfyller version 1.3 av HDMI-specificationen
5.1 kanalers analog ljudutmatning
4 x översampling med DAC 297 MHz/12 bitar
RS-232C-in/utgång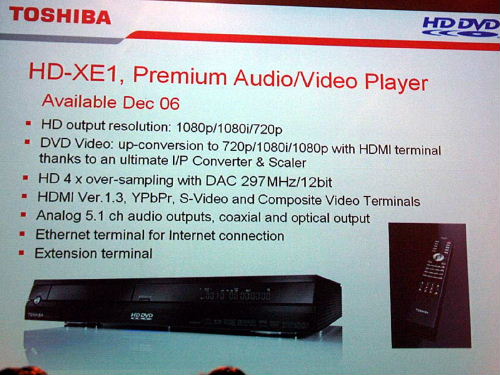 Källa och mer information från IFA-mässan i Berlin
Ursprunglig nyhetstext
Inte mycket information har hunnit fram gällande Toshibas HD DVD-spelare som i början av november ska anlända Europa. Enligt uppgift ska HD-E1 som modellen heter vara en europeisk version av den amerikanska HD-A1 snarare än en andra generationens spelare.

Utseendemässigt så kommer nog den slimmade E1:an att locka en större del av konsumenterna än den något klumpiga amerikanska A1:an. Bilden är dock "provisorisk" enligt dvd-shop.ch och vi får se vad som dyker upp framöver.
Webbplatsen dvd-shop.ch, anger priset CHF 999 vilket motsvarar 5.900 kronor och man får väl anta att priset hamnar däromkring även i Sverige.

Länk till dvd-shop.ch